Zack is seven. We pulled him out of Montessori preschool when he was three and a half years old to homeschool part time, which turned into homeschool full time. He is brilliant and came here with a few bells and whistles. Our homeschool years were fun and stressful and our school search was intense. He is the most social person I know and I am the most anti-social pro-solitude person I know, so we are all happy that he will get to go to an amazing school with amazing teachers and peers every day. His new daily social life as a second grader marks the beginning of my new daily early-morning life as an ex-homeschooler. I will now have to get up in the morning and function during a time when I am usually just getting into my REM sleep. I will have to change some of my nocturnal ways. In the meantime I will become one with my coffee beans. The first day of school is behind us and I must say, we kilt it. I was going to write all about it, but why write mere words when GIFs can say so much?
*Disclaimer: I did not create these GIFs and have no idea where they originated unless they're watermarked.
Zack woke up like this..
I woke up like this...
As a virgo and avid list-maker, I whipped out my First Day of School Morning To-Do checklist like this...
First order of business--get my smoothie blended and in my body...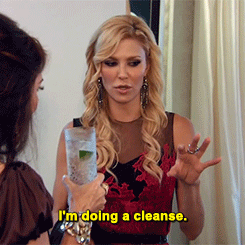 The rest of the morning was smooth like budda. Zack got himself ready, I got into my gym clothes, we took pictures and left the house on schedule. When I dropped him off, I reiterated to his teacher everything I had already detailed to the school before applying and to the teacher during orientation about his special dietary and brain-break and exercise needs and was basically like...
From the time we stepped into the school, I couldn't tell if Zack was nervous or not. By the time we made it to his classroom at the end of the hall, he had been enthusiastically greeted by several different people, including getting a high five from his favorite teacher from his previous visits. He was all smiles when he waved goodbye and I barely got a side-hug while he made his way into the room. I walked out of the school like this...
Then it hit me that I was walking out of the school--SCHOOL...where he would be all day. A day in which my name would go un-whined, my shirt would go untugged, my bosoms un-cuddled, my time and elbow room would be all mine! MINE! When the school door closed behind me, I walked to my car like this...on the inside...
I'm not a morning person.
So driving back to the suburbs in rush-hour traffic and staying awake was going to be a challenge. Luckily, the gym I go to has locations all over the city and one was just a couple of blocks away from the school. Since I was going to be in my car all by myself all day, I stopped the Kidz Bop CD and put on my most explicit playlist--the one with all the bad words and sexually suggestive lyrics-- and cranked up the volume. I drove to the gym like this...
The first song on my workout playlist is "Work Bitch" by Britney. When I tell you that song gets me through. I crushed my workout like...
Then I walked out of the gym like...
I drove all the way home singing aggressive rap lyrics as loud as I damnwell pleased. I showered, changed into yoga gear, then I had my second meal of the day.
By this time I was rocking my to do list and it wasn't even noon! So when I sat down to work on my blogs and side-gigs and things if that nature, I was in total beast mode like...
By one o'clock, I had accomplished so much. In all the time home with my son homeschooling and seeing to his social needs, and possibly napping...ahem...I'd rarely accomplished as much in a whole 17 hour day. I felt so accomplished like...
Since I had a little over an hour to veg a bit, I turned on my DVR and started to catch up on my two year old list of twenty-two episodes of Grey's Anatomy and had my third meal of the day...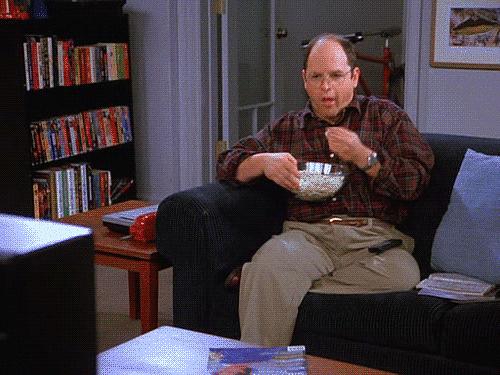 Since I was fast-forwarding through commercials, and because Grey's Anatomy is SO GOOD, I figured I could squeeze in two episodes. By the time I realized I was wrong, I was late leaving to pick Zack up from school. I rolled out my garage like...
I got there 15 minutes early. I went in telling myself to be cool, and to not drill the teacher about Zack's day. I didn't get to talk to her initially, but Zack had to go back inside. I ran into her and fortunately I didn't have to play it cool because she couldn't wait to tell me what a great day he'd had. She was beaming and full of all.of.the.awesome.things to say about him. I'm fighting back happy dances and meanwhile Zack is waiting to go to the car like, it's whatever...
So we get buckled into the car and I turned around and look at him like...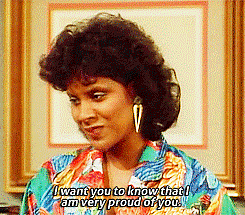 Then I remarked how laid back he was when the teacher was telling me all of the awesome. Because he's like his mom, he didn't want to geek out in front of the teacher. When I asked him what he thought about his first day of school...really...he was basically like...
Our ride home was great. We stopped at Phil's Ice House for burgers and he played with kids on the playscape. While we ate, I told him the things that I had accomplished during the day and he told me he was proud of me too. By the time we got home, he was exhausted from all the excitement of the day. During his bedtime prayer he thanked God for helping him to have a good day at school and helping him not be a bad kid. Y'all he's never been a bad kid, but the bells and whistles he came here with made his preschool year and a half extremely difficult. Expectations were placed on him, due to the intelligence he displayed, that he just did not have the tools to accomplish because he was a baby--a very smart, very tall baby. He was put into a classroom situation way too early. It was a nightmare towards the end, even though the school teachers and director were amazingly patient and did everything they could to help him. We didn't even let it go on that long before we pulled him out, but the fact that he thinks that he was ever a bad kid and still prayed about it all these years later...
Later I sat on my bed and just thought about how damaged he would be if we weren't able to pull him out of school and homeschool temporarily. I thought about all the labels and the tears (his and mine) and daily struggles we'd have endured if I'd had to put him in a mainstream public school that wasn't set up to help a kid like him succeed. I thought about all the kids, especially the black boys, who are brilliant, yet surrounded by teachers who don't have the time or resources or sometimes even the desire to see their light. In that moment, I realized how blessed I have been and I was just overwhelmed with so much gratitude and emotion that I was just like...
When I got myself together, I poured myself a glass of wine and sat down at the kitchen island to blog this and to make my Second Day of School Morning To-do List. I put a note at the top of the paper like...
Today was so awesome in so many ways, for so many reasons. It went just the way I had planned. I know better than to expect this kind of perfection every day, but today sure was a good day.
I always imagined I'd just veg out all day the first day I became free from child maintenance during school hours. I'm actually super proud that I accomplished my to do list.
How did you send your child's first day of school? Are you Team Veg or Team Git er done?
P.S. Thanks for reading! If you like this post, please share it with your friends in social media land. Laughter is good like a medicine. Heal somebody! To follow my blog, enter your email address in the box at the top right of this page to subscribe and get my posts right in your inbox, or click here to subscribe to my feed.
P.P.S. Here's Zack on his first day of preschool and on his first day of second grade. He's just a little bit taller.